Field Portable Spectrometers for Mineral Identification and Analysis in Mining Exploration
SPECTRAL EVOLUTION's field portable, battery-operated oreXpress, RS-5400 and SR-6500 ultra-high resolution spectrometers are designed for mineral identification in mining exploration, as well as the quantification of metallurgical and mineralogical properties during production and processing. The oreXpress provides a quick payback with faster, more accurate mineral identification in exploration for gold, silver, diamonds, iron, nickel, copper, uranium, aluminum – in the field, core shack, or in the lab, and provide:
Rapid data/spectra collection in the field – allowing you to take more scans in less time
High resolution in a field instrument
High signal-to-noise ratio for improved reflectance values
Fast start-up and use with no optimization step required between scans
Sturdy metal construction with thick walls to handle any field conditions, including high ambient temperatures
Reliable operation with no moving optics and a robust fiber optic cable with quick-disconnect
A rugged and reliable mineral contact probe for single click field measurements that easily fits in chip trays
Using our portable UV/VIS/NIR reflectance geological spectrometers, you can identify:
Al(OH) group minerals
Sulphates
Si(OH) group minerals
Fe(OH) group minerals
Mg(OH) group minerals
Carbonate group minerals
Selected OH-bearing silicates
Selected zeolites
Selected rare earth element (REE)-bearing minerals
Selected massive sulphides
oreXpress, RS-5400 and SR-6500 spectrometers provide a number of unique, in-field benefits, including:
Full UV/VIS/NIR spectral range of 350-2500nm
Fast scanning and ease-of-use – one touch operation, auto- optimization on every scan
Portable, lightweight unit with optional ALGIZ 8X rugged handheld tablet – easy for one person to use
ALGIZ 8X becomes your field notebook – record audio notes, add your GPS position, take pictures of your samples, save it all and tag it to your scan
Rechargeable lithium-ion batteries- lightweight, four hour operating life
Immediate start-up – no warm up – start taking readings immediately to take advantage of daylight and weather
DARWin SP data acquisition software collects your critical data, saves in ASCII files – no post-processing necessary – use with SpecMIN, GRAMS, TSG and other 3rd party software
Field Portable Spectrometer for Mining
Ideal for field measurements on outcrops or mapping open pits, hand sample analysis, chip trays
Also, ideal for core logging in logging shacks
The oreXpress spectrometer is well-suited for core logging where it can increase your productivity by taking more scans in less time. For core shack use, we also offer a choice of field carts: a collapsible field cart or a lightweight plastic tall field cart with three shelves.
SPECTRAL EVOLUTION oreXpress Spectrometers are ideally suited for mining exploration, mineral identification, and mining production. These spectrometers cover the UV/VIS/NIR spectra using three photodiode arrays with no moving parts. This makes them supremely reliable in the field. oreXpress spectrometers can collect spectra in as little as 100 milliseconds. The instrument control and data handling DARWin SP Data Acquisition Module included with each unit provides full featured software and is compatible with a wide range of 3rd party analytical software, including: SpecMIN, GRAMS, The Spectral Geologist (TSG), and others.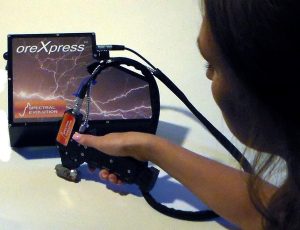 Mining Applications:
Works with:
Our oreXpress spectrometers are available with EZ-ID software that provides:
Fast and accurate identification of an unknown mineral to a known library sample
Easy-to-use, just collect your scan and see the results in real time
Simple, consistent user-interface
Pattern matching algorithms in interactive mode that can be used with SpecMIN, USGS, GeoSPEC and other libraries for mineral identification
Software provides a weighted score for best matches
Include or exclude spectral regions of interest for optimal results and display results and scores in multiple columns in different combinations for comparison and unmixing
Scalars that provide additional information on alteration
The ability to create your own library of known samples
Contact probes
ALGIZ 8X rugged handheld tablet
Benchtop reflectance probe
Fiber optic cables
Backpack for field work
Reflectance panels