Mining Software for Spectral Evolution Field Portable Spectrometers
Every SPECTRAL EVOLUTION Spectrometer and Spectroradiometer is supplied with our exclusive DARWin SP Data Acquisition software – a full-featured, menu driven program for easy data manipulation and analysis of multiple UV-VIS-NIR spectra. The DARWin SP module features one-touch operation and easy, intuitive menus for fast, effortless operation.
Users can take advantage of the following DARWin SP analysis features:
Automatically saves data as an ASCII file for compatibility with SpecMIN, GRAMS, TSG and other 3rd party software – no extra export function necessary
Collect reference or target data with a single click
Display reflectance/transmittance data (percentage) or absorbsance (logarithmic) versus wavelength
Single and multiple spectral plots available
Compare current scans against libraries, including USGS libraries
EZ-ID Mineral Identification Software
Our EZ-ID software allows you to quickly identify minerals of interest, match them against existing libraries (like SpecMIN, USGS or GeoSPEC), or create your own custom library. EZ-ID software provides:
An easy way to create a custom mineral spectral library
The ability to quickly add spectra to an existing library
Pattern matching algorithms in interactive mode that can be used with SpecMIN, USGS, GeoSPEC and other available libraries for mineral identification
Display of your match report on screen
With EZ-ID, the mineral identification capabilities are built into the spectrometer, so you have instant access in the field. The results include more accurate identification, faster identification and the ability to take more sample scans in less time.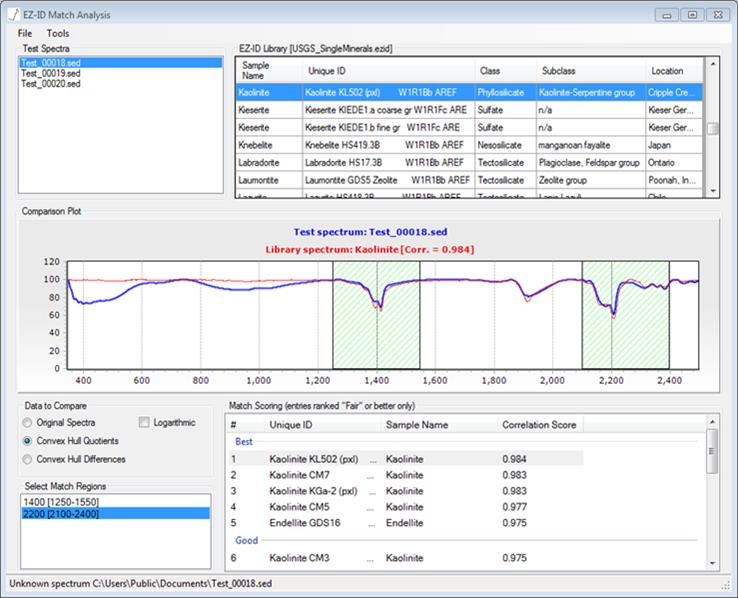 Compatibility with 3rd Party Analysis Software
Because DARWin saves scan data in an ASCII format it is ready-to-use with a number of popular 3rd party analysis software, including SpecMIN, GRAMS, and The Spectral Geologist (TSG).
SpecMIN
SpecMIN is a mineral identification system that includes an extensive library of reference spectra for minerals, wavelength search/match tables, physical properties of each species in the database, and literature references for the infrared active mineral phases. SpecMIN is available with SPECTRAL EVOLUTION'S EZ-ID.
For mineral identification, SpecMIN offers over 500 infrared active mineral species with almost 4,000 spectra. The automated spectral match tables present matches by:
Major and minor absorption features
Mineral species
Mineral groups
Feature analysis tables are available for individual species and diagnostic absorption features for each mineral selected. There is also an automated search/match feature for identification help. SpecMIN is a product of Spectral International, Inc. 
GRAMS
GRAMS is a suite of software programs for visualizing, processing, and managing the spectroscopic data you collect. It offers tool to capture, store, process, and report data. It has a graphical multivariate analysis tool for building both quantitative and qualitative models for discriminant analysis. GRAMS provides:
Advanced processing routines, data comparison, and visualization
Spectral database provides a scalable data management tool
Spectral pattern matching/library searching
Chemometrics software for deploying chemometric calibration models
GRAMS software is a product of Thermo Scientific. For more information on GRAMS, click here.
The Spectral Geologist (TSG)
TSG is a suite of tools for geological analysis of spectral reflectance data of minerals, rocks and soils, drill cores, and chips. With TSG, a user can generate a detailed analysis of multiple spectra, use core images and ancillary data streams, and work with small or large data sets. TSG features the following capabilities:
Analyze any size spectral data set
Make thousands of spectra into calculated mineralogical indices for analysis os specific mineral characteristics, such as composition
Automate the mineral interpretation process
Integrate spectrally derived data with imported geochemical and geological mine data
Visualize and plot results in a wide range of formats and views
For more information on TSG, click here.